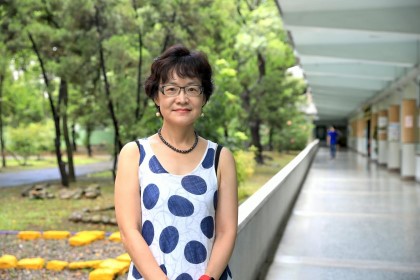 Chiwen Liu
Dean of College of Foreign LanguagesProfessor, College of English Language and Literature
Office
College of Foreign Languages, LA116
Tel
02-2905-2550 or 02-2905-3673
Email
034702@mail.fju.edu.tw
Fields of Specialization
Contemporary Canadian and Taiwanese Postmodern Urban Film, Contemporary Canadian Postcolonial Literature, Web-Based Literature and Language Education, Literary Theory, Postmodernism
Education
Ph.D., English Department, State University of New York, Stony Brook, U.S.A.
Professional Experience
Professor, English Department, Fu Jen Catholic University (2018.02~present)

Chair, English Department, Fu Jen Catholic University (2010.08~2013.07)

Associate Professor, English Department, Fu Jen Catholic University (1993.08~2018.01)

Connecting to the Future. . .


Literature and Language Education as Basis, We Connect with Technologies and Business Fields
With solid language education as our foundation, CFLL emphasizes cultivating students' critical thinking, professional competence, communication skills, and learner autonomy.
We also aim at innovative teaching, such as combining Literary Education and Game Design, Language Education and Studies with Apps and Technologies, using big data in the fields of Political Economy, not to mention teaching Business Communication in the fields of marketing, negotiation, and foreign dispatch.
With the coming of AI era, we believe that our next generations need not only language and practical skills, but also cross-cultural competence and communication skills. As we are preparing them for the future challenges with our teaching and research, we sincerely appreciate the advice and funds from all the alumni and faculty!

We warmly welcome you to join us in College of Foreign Languages and Literatures!